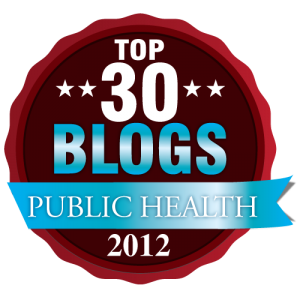 Public Health is a broad and growing field with opportunities for employment spanning the globe. Professionals in the field increasingly rely on the relevant and poignant information their colleagues are sharing in online publications, such as blogs. This guide highlights the best of the best blogs that would be of interest to anyone looking into the public health field. Read on to learn about our choices for the Top 30 Public Health Blogs of 2012.
General Information
1. Health Affairs Blogs: Health Affairs Blogs highlights the most current issues in public health policy and is a segment of the Health Affairs website. Health Affairs touts itself as being the leading journal of public health policy for over 20 years.
Highlight: Reconsidering Primary Care: A View From a Foundation President
2. CDC Public Health Matters: The Centers for Disease Control and Prevention presents a blog surrounding preparation and response to public health events.
Highlight: Extreme Preparedness: Doomsday Preppers
3. Health Alerts: As one of the internet's top public health sites, Yeshiva University's Health Alerts focuses on keeping its readers healthy in mind, body, and spirit.
Highlight: TV Health Problems: Why You Should Turn It Off
4. Get Ready Blog: The American Public Health Association blogs mostly about preparation for the spread and containment of contagious illness throughout the United States.
Highlight: Get Your Mobile Phone Disaster-Ready
5. WSJ Health Blog: The Health Blog of the Wall Street Journal deals with a multitude of health related subjects, with many of the posts focusing on the field of public health.
Highlight:One Woman's Drug-Resistant TB, Echoing Around the World
International Public Health Issues
6. Global Health Policy: A blog from the Center of Global Development, Global Health Policy reports on global health conditions and world-wide independent research.
Highlight: Responsibility in the Time of Cholera: What the UN and Others Should Do in Haiti
7. Global Health Hub: Global Health Hub aims to provide the most up to date news about global health and development by acting as both a news aggregator and by providing original commentary. The large team of volunteer editors and writers hails from a variety of different backgrounds, enabling them to offer content that appeals to a diverse audience of individuals with an interest in global health issues.
Highlight: What is a Hospital?
8. Healthy Travel Blog: This insightful blog is essential to any world traveler preparing for their next trip. Find global health alerts and learn how to stay healthy while abroad.
Highlight: A Quick Guide to Eating Healthy at the Airport
9. Harvard World Health News: The Harvard School of Public Health updates their blog regularly with news links concerning American public health and public health policy.
Highlight: About World Health News
10. Global Health at Northwestern University is a collaborative blog featuring posts from a variety of students and faculty on the subject of global public health.
Highlight: Land Mines and Cluster Munitions in a Public Health Context
Healthcare Policy
11. The New Health Dialogue: The New Health Dialogue is a blog focused solely on America's Health Policy Program. This blog of New America's Health Policy Program aims at promoting conversations around cost, coverage, and quality of our healthcare systems.
Highlight: Cancer Screening: Emotion vs. Data
12. Health Care Renewal: Health Care Renewal aims to address threats on healthcare's core values. They advocate for "accountability, integrity, transparency, honesty, and ethics in leadership and governance of health care."
Highlight: Non-Profit Hospital Executive Salaries Continue to Defy Gravity and Logic
13. Health Policy Hub: This blog of Community Catalyst provides information on healthcare policy in the hope that healthcare will be made available to all people.
Highlight: Big Advances Coming for Behavioral Health
14. Economist's Lens: Offering an interesting spin on a healthcare policy blog, Kevin Frick blogs about how the economy affects public health, healthcare, health policy, and health economics.
Highlight: Insurers Covering Contraception
15. Health Care Policy: Health Care Policy is the blog of John Goodman, known in the health care industry as the father of health savings accounts, and features his thoughts about health policy issues.
Highlight: Why Physicians Make Mistakes
Public Health Research
16. Alliance for Aging Research: A research blog dedicated to publishing the latest finds concerning age related health topics such as Alzheimer's and Glaucoma.
Highlight: Recommendations for Advancing Alzheimer's Interventions
17. The Public's Health: The public health blog of the Philadelphia Inquirer, this blog combines current events with public health topics.
Highlight: Why Attack Snack Food in Schools?
18. International Journal of Public Health: At the forefront of public health research, the IJPH provides a global perspective and free academic papers for your reading pleasure.
Highlight: New Study: Time Trend Changes and Gender Convergence in Adolescent Drunkenness in Italy
19. Healthcare Economist: Jason Shafrin uses current studies and catchy titles to bring an unbiased analysis of today's healthcare issues.
Highlight: Who Has the Highest Malpractice Premiums?
20. New Public Health: The Robert Wood Johnson Foundation launched New Public Health in 2011 as an online destination for information and discussion about public health.
Highlight: Federal Agencies Launch Action Plan to Make Homes Safer and Healthier
Environmental/Public Health Blogs
21. The Pump Handle: This blog on scienceblogs.com combines public health and environmental issues to report on global public health incidents and their effects on the environment.
Highlight: It's Not Rock Science To Prevent Coal Miner's Deaths
22. Enviroblog: Enviroblog is the blog of the Environmental Working Group, which acts as a watchdog group endeavoring to help American citizens achieve a cleaner and healthier environment. Enviroblog reports regularly on the chemicals present in the everyday items we use and the food we eat.
Highlight: "Natural" Extracts Can Trigger Allergies
23. MSDS Online: Health and safety compliance in the workplace is made simple with the aid of instructional blog posts from Material Safety Data Sheets Online.
Highlight: Safety Professionals on the Front Line of Sustainability
24. Environmental Health News: A collaborative blog featuring writing from many different perspectives on the field of environmental health.
Highlight: Baby Mice Exposed to Air Particles Seek Instant Rewards, a Behavior Linked to Addiction
25. Safer Chemicals Healthy Families Blog: this blog of the Safer Chemicals Healthy Families Coalition aims to educate the public about dangerous chemicals found in everyday products generally assumed to be safe.
Highlight: Attacking Asthma in our Home
Public Health News
26. Shots is the public health blog of NPR and features articles on major public health issues from a wide range of writers.
Highlight: Often A Health Care Laggard, U.S. Shines In Cancer Treatment
27. Health Wonk Review: A biweekly compilation of over a dozen health policy blogs. The formal compendium is always hosted on a different blog site in order to form a network of new ideas.
Highlight: About Health Wonk Review
28. Covering Health: A blog managed by the Association of Health Care Journalists, Covering Health strives to keep journalists informed about public health and healthcare policy.
Highlight: Hispanic children Bear Brunt of Poor Access to Dental Care
29. Health News Review: The Health News Watchdog Blog is a publisher's blog, which targets stories from the news and discusses their relation to healthcare subjects.
Highlight: Five Year Survival Rates Can Mislead – Message to Medical Educators, Medical Journals, Journalists and the Public
30. Reporting on Health: The California Endowment Health Journalism Fellowships report on the state of public health and healthcare in California in this collection of blogs.
Highlight: Veterinary Drug Residues in Food? Probably